The projects ends at the 30th of June 2007 after 7 month, because the building has been listed to demolition in the 4th quarter of 2007 which seems to bee rescheduled now.
Not the people being in the newspapers, but the people creating and realising the project give a face to it. On this account, we would like to say thank you to all the people who let the idea of the blinking building come true. Special thanks go to...
One question remains: What happens after the pull down of the bluebox? Because a picture tells more than 1000 words, the DGAG allowed us to publish this picture of their concept. Maybe the building will be lightened blue at night in memory of the blue box?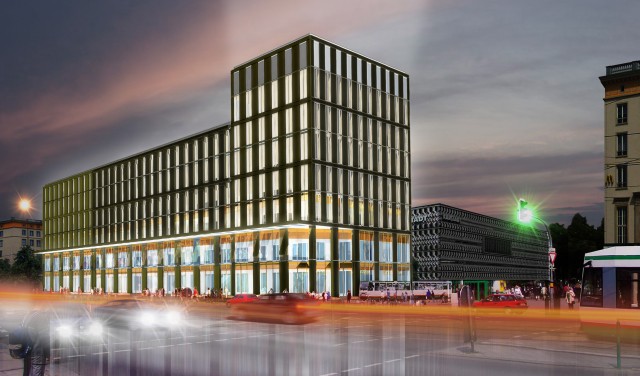 bluebox donations
Within different activities we tried to use the attention to raise money which will flow into public welfare. Alltogether 1600 EUR have been collected by adopted windows, the 0900-Number to play games or see messages on the building and private donations.
The first donations were handed over on 30th of June 2007 before we switched off the house in the evening. The event "Poetry Slam Revue" organised by the association called Rockbar e.V. with the man of letters Bas B÷ttcher was supported by 250 EUR.

Another 250 EUR were donated to UNICEF and a so called "Schule in der Kiste". This is a big box with a lot of material for learining and teaching for 80 children in trouble areas. Since 1994, UNICEF were able to deliver thousands of those boxes and 10 million children had the chance to learn by them only in 2004. Worldwide, about 115 million children have not the possibility to go to school.