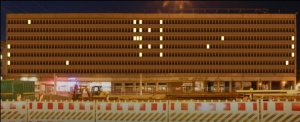 When you dial 0900 55559942 Pong will be started. Press 5 on your phone to move your paddel up and press 8 to move it down. If you are the first person who calls, you will operate the left paddel and the computer the right one. If there is another person calling while you're playing, this user will control the right paddel and play against you. As soon as one of the players hangs up, the computer will take over his paddel. Movies will continue from the playlist, whenever both player had hung up.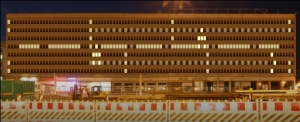 To start Pacman call 0900 55559942 and press *1# after Pong started and it will switch to Pacman. In the beginning Pacman will be always located at the left side. Press the buttons 2,4,6 and 8 on your phone to move the figure.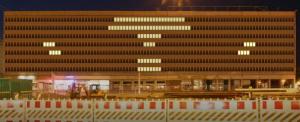 To play Symmetris call 0900 55559942 and press *2# after Pong started and it will switch to Symmetris. The rules of the games are the same as for the famous Tetris, but you have to align the blocks in the center of the bluebox building, not at the bottom. This is due to the resolution and the blocks will fall from both sides. It is up to you on which side you want to concentrate. Press 6 on your phone to turn the current stone and move it up with 2 resp. down with 8. Once you finished a column it will vanish. When the whole bluebox screen is full of blocks, you have lost and may start the game again. If you hang up, the playlist will continue.